You might remember a long time ago
I had a good gush about Yume Nikki
. Well, since then I read a little more into the series, discovering its fandom (who mostly lurk in places like 4chan rather than here) and learned a little bit more about the fanmade games. Since
YN
is an indie game (
Dojin Soft
)
, and its creator(s) prove to be pretty elusive themselves, the fans both here and in Japan made their own free games using the same RPGmaker program that
YN
did. So they're
dojin
dojin software? Woah, meta. There's mixed results, but two of them looked promising -
Yume 2kki
, which is unfortunately untranslated as yet (since it's also the fans who translate these games) and
.flow
. So I figured that, like last time, i'd talk a little about it and maybe you'd want to check it out.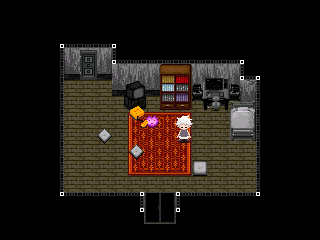 ( Read more... )
So overall? It's hard to approach this as someone who didn't play the original first, and if you did it can seem a bit samey. However it does have all the same charm and atmosphere as the last one. Once again you can find yourself playing this into the night without realizing it. In fact I'm going to be charitable about this one and say you could as easily jump into the YN experience from this one as the original, and if you got a kick out of
Yume Nikki
itself and like free games this one is worth downloading.
Next up I'm going to talk about possibly one of my favourite new horror games
Corpse Party
. Stay tuned.